Since the first beer was brewed and the first glass of wine fermented, legal adults around the world have enjoyed the tradition of sharing a good drink with better company. No matter if you prefer a dive bar or an upscale cocktail lounge, enjoying a beverage with friends and family is a popular way to celebrate milestones or decompress after work. Bar hopping on the weekends and supporting your local saloon for happy hour are fun excursions, but sometimes you just need a night at home, sipping your favorite beverage in your most loved pair of sweatpants. And occasionally, it's exhilarating to host a party at your personal residence instead of outsourcing the festivities.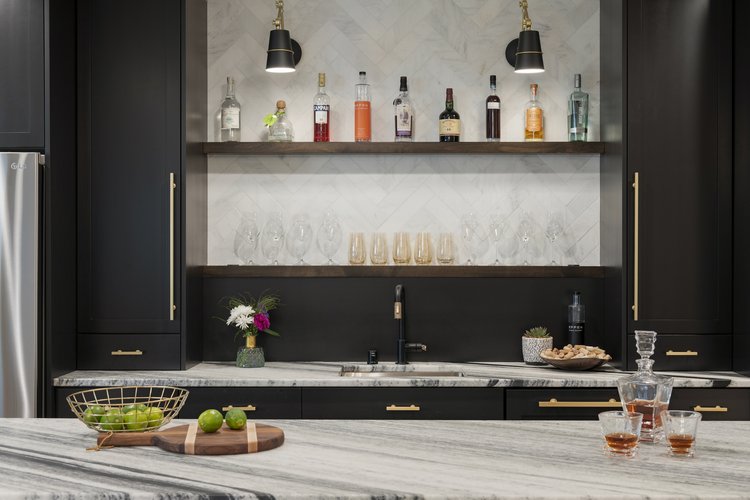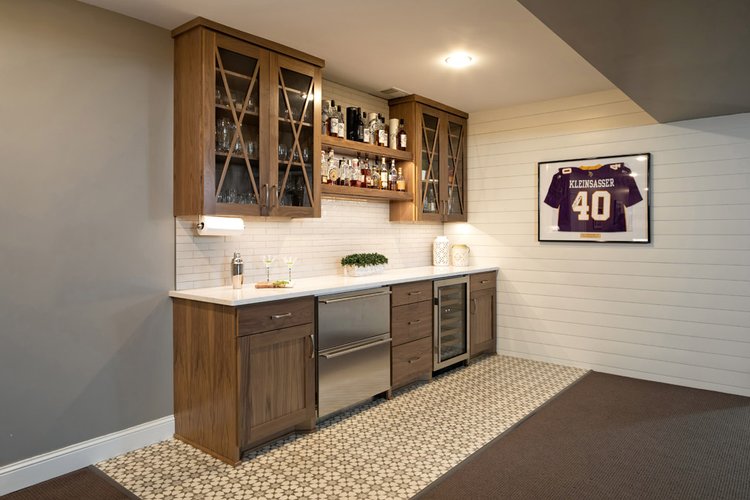 Whether you're looking for a quiet, solo nightcap, or a raging party with 50 of your favorite friends and family members, an upgraded and stylish home bar is sure to create the perfect ambiance for those nights when staying in is the priority. Below, we're highlighting some of our favorite ideas for updating or installing a home bar. No matter if you're living in a 700-square foot studio apartment or renovating the entirety of your basement, we've got inspiration for every space, style, and budget.
FOR THE SMALL SPACES AND BUDGET SAVVY
BIGGER DOESN'T ALWAYS MEAN BETTER. THESE IDEAS MAKE HOME BARS ACCESSIBLE ON A BUDGET.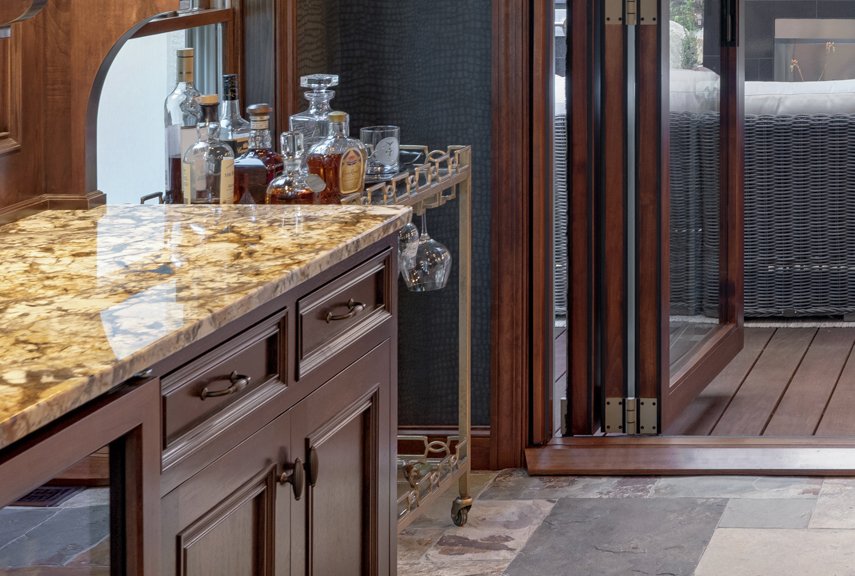 A bar cart is a great option for novice drinkers, experienced bar tenders with limited budgets or space, and everyone in between. Whether it's gin, vodka, whiskey, bourbon, or mixers for you favorite martini, a bar cart is convenient and will bring your home bar together. And as a bonus, this is the easiest bar to set up, with a seemingly infinite number of options that cover just about any style and budget. The only limit is your own creativity!
For those with an eye for chic and sophisticated home décor, we'd recommend a gold bar cart with metallic accents. If your style is more rustic, a bar cart with wooden and black materials is the way to go. And, if your taste is more eclectic, try a bar cart with bright colors, or an unconventional design.
2. UPGRADE TO A BAR CABINET
Bar cabinets are slightly different from bar carts because they tend to be a bit bigger and they have doors that allow you to conceal your glassware and alcohol. Bar cabinets are great additions for larger spaces such as a separate, formal dining room. They are as functional as they are stylish. Some of our favorite bar cabinet styles include farmhouse, modern, and traditional. Keep your bar cabinet stocked, yet tidy so it remains functional and visually appealing.
3. TURN EXCESS COUNTER SPACE INTO A WET BAR
A cost-effective option for adding a bar to your home is to utilize any extra counter space you might have in your kitchen. No need to splurge on a new bar cart or a cabinet when you can simply reorganize your kitchen to create the home bar of your dreams. If a homemade wet bar is the addition for you, consider adding some fixtures to your existing cabinets and counter tops in order to hold and store bar tools and glassware. For instance, for less than $20, you can add an under the cabinet stem rack to hold your favorite wine glasses. A simple wine rack or counter caddy is also a great way to keep your bar organized while displaying your liquors.
FOR BIG IMPRESSIONS AND THE PERPETUAL PARTY HOST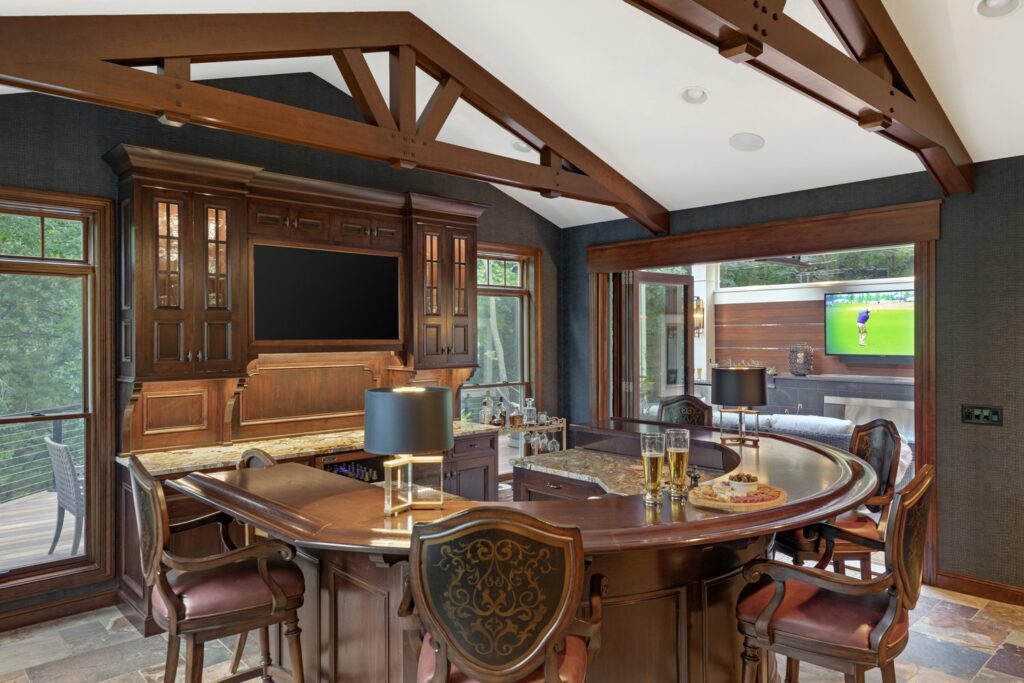 We all have that one friend or family member that is always opening their home for the New Year's Eve party or the potluck birthday celebration. If that friend is you, here are some ideas that will help you go all out and create the perfect bar for all of your gatherings.
1. TURN THAT UNDERUSED DINING ROOM INTO A COCKTAIL LOUNGE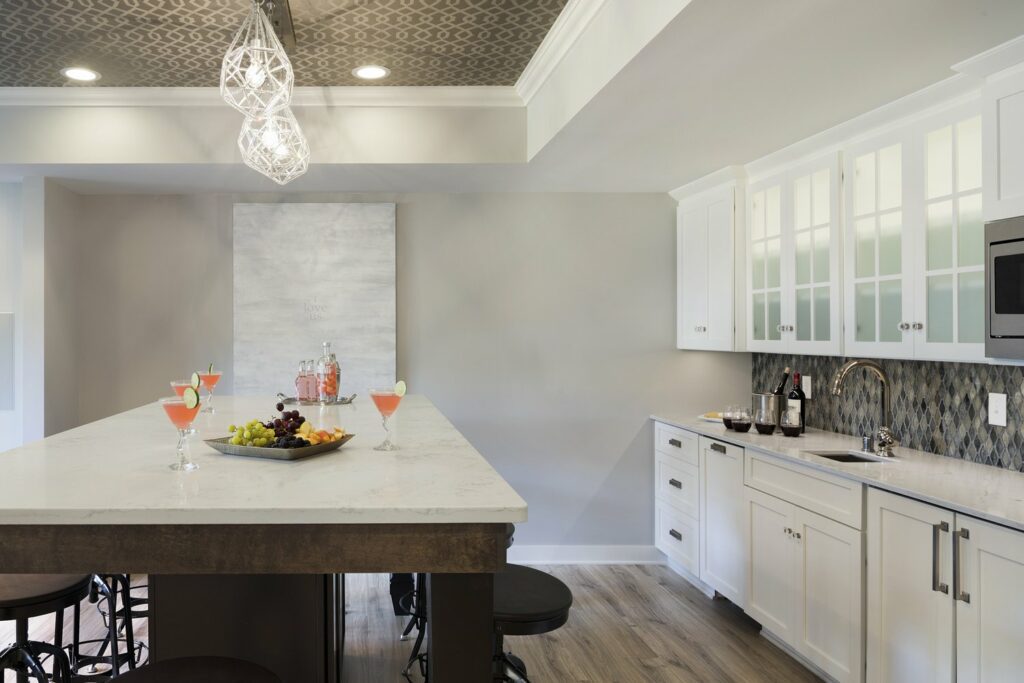 If you're looking to add a home bar that is more spacious and eye catching than a simple bar cart or cabinet, consider renovating that hardly used formal dining room. Add a wet bar, a mini fridge, bar stools, and some comfortable seating and you're well on your way to an in-home cocktail lounge. Use all of the space available in order to create a unique nook that starts conversations and serves multiple guests at a time. Get creative with the space, and add colors and décor that reflect your personal aesthetic.
2. ADD A BUTLER'S PANTRY THAT'S FIT FOR A ROCK STAR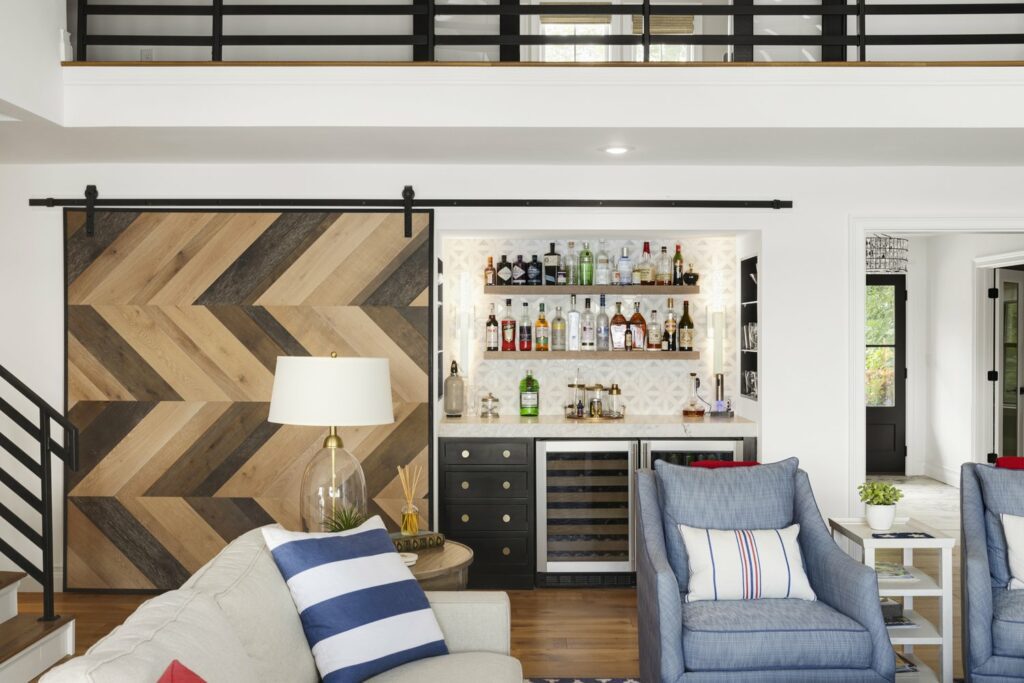 Traditionally, butler's pantries are located somewhere between the kitchen and the dining room and have been used to store cutlery, food, and serving dishes. However, these days not every home needs a room for a surplus of flatware, and these spaces can provide creative and unique opportunities for other in-home amenities. For instance, all of those extra cabinets and counter space create the perfect spot for a home bar. Quick upgrades like mirrors, tiles, paint, and glassware add style and character to the space. Butler's pantries also have the benefit of being isolated spaces and make the perfect bar for homeowners who are looking for something a little more discrete, while still being big enough to accommodate larger gatherings.
3. GO ALL OUT WITH A BASEMENT RENOVATION
For those who love to host big parties, you need a space that reflects the joy you get in creating dishes, serving drinks, and shaping memories with your friends and family. If this is you, then consider building the basement bar of your dreams with top of the line appliances, beautiful lighting, and accent tiles that show cases your personality and makes you the go to entertainer of your group. Basement bars allow for infinite creative possibilities and can be uniquely personalized for any design style or aesthetic.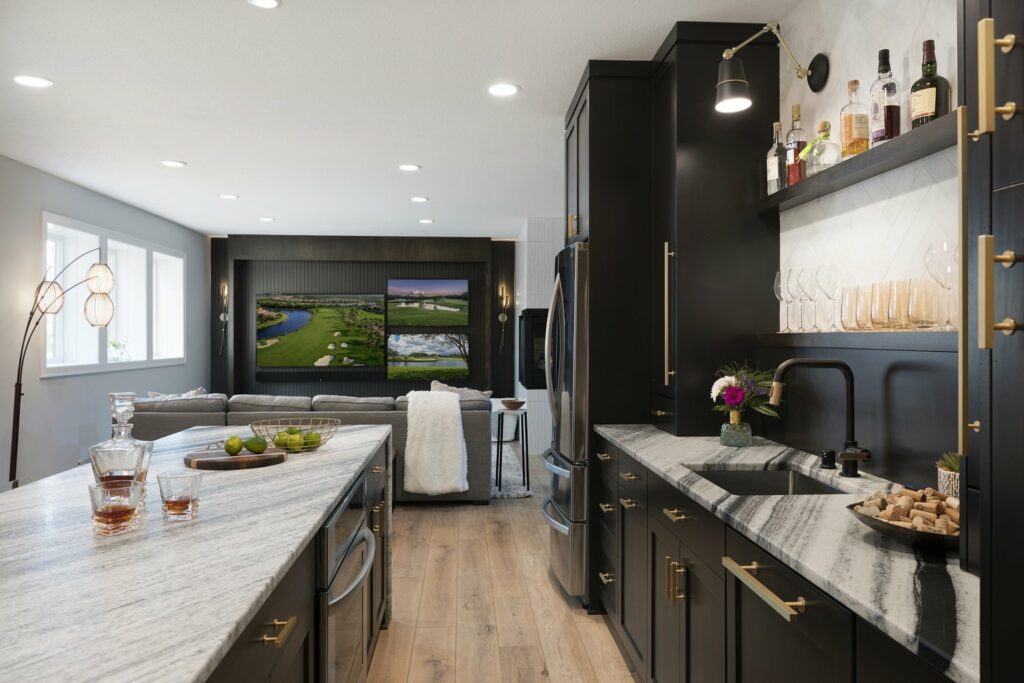 No matter the style or the size of the bar you chose, the set-up of your tools, glassware, and alcohol is equally as important in developing your new home bar aesthetic. Don't overload your bar. While it may be tempting to run out and buy 20 different kinds of booze to add to your bar, limit your purchases to those alcohols that you truly enjoy. This prevents waste and ensures the space won't look overcrowded. Use fruit and garnishes to add a pop of color. A small bowl of limes is both an aesthetically pleasing and functional addition to your bar. Don't be afraid to mix and match your glassware. There are almost as many kinds of glasses as there are kinds of alcohol. Pick at least a handful of different types of glassware to add to your bar. By including different glasses, you'll surely have something suitable for guests whose tastes range from light beer to hand-mixed cocktails. Using all of these various glasses can also serve to create statement pieces of décor that are sure to be the highlight of the space.
Regardless of the size of your space or the extent of your budget, adding a bar to your home creates an inviting and lively environment that will be a hit with your friends and family. Home bars are great spaces to host anything from quiet nights in with a partner to rowdy viewing parties of your favorite sports team. If you're looking to design the perfect in-home bar, contact our team at Mom's Design Build today!