Do you ever look at your yard and think something is missing? And no, we're not talking about a built-in pool or an outdoor kitchen (although, you know who to call if that's the case). You might think you just need more flowers, trees, lights or furniture, but what you're probably overlooking is an artistic touch.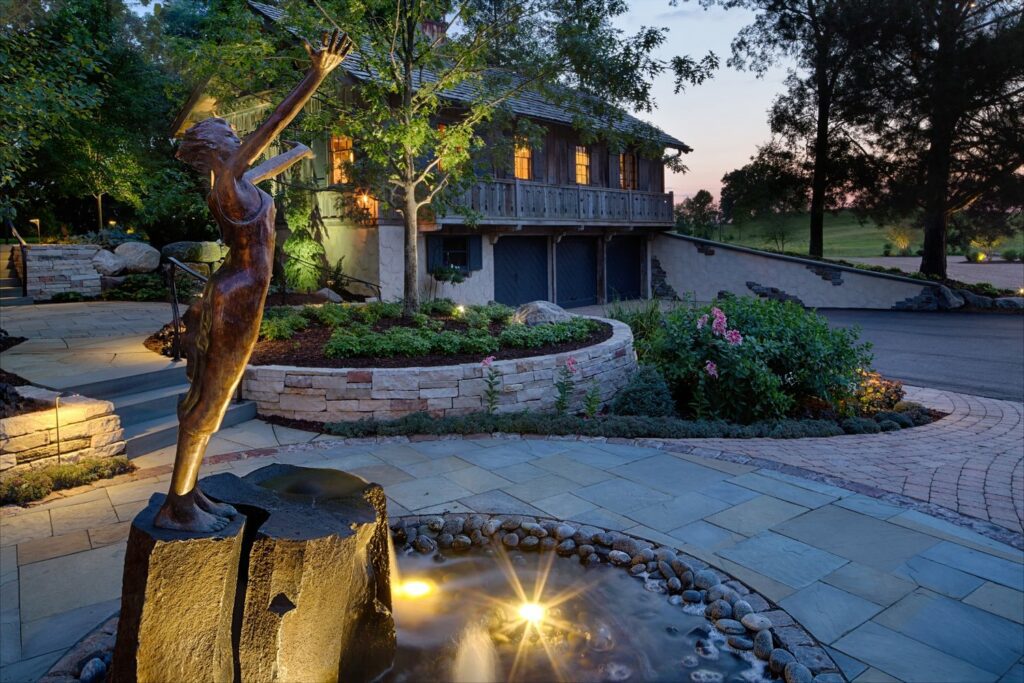 Few understand how much something like a yard sculpture can tie everything together, but those who do embellish their landscape with that personal touch understand the importance. Here are three reasons we agree:
1. BEAUTY AND PERSONALITY
Let's get the most obvious reason out of the way: aesthetically, they're pleasing to the eye. Whether big or small, colorful or bronze, there's something about a beautiful piece of art that makes you feel like you stepped into a different time period, or a movie, or even just an alternate state of mind. Adding a sculpture to your yard can not only provide that feeling, but also can bring contrast, harmony and a whimsical feel to the atmosphere of your landscape.
While your yard might already feel personal to you, sculptures can add a level of personality and style that many other things cannot. The uniqueness they bring helps express your interests, feelings, dreams and fantasies. Because there is so much meaning behind every piece, art can be interpreted in many ways. To some a butterfly sculpture might look like a representation of your love for them, but to you it represents transformation and hope. Maybe passerbys see a bird sculpture and think it's because you enjoy birds, but to you it is a commemoration of a loved one.
Yard sculptures not only give you the opportunity to express your style, but also your beliefs, values and outlook on life. Whether you lean more towards classical and modern, or you find yourself more interested in contemporary and abstract, there are pieces that fit any personality. Just make sure to choose a sculpture that you believe in because it becomes a reflection of who you are.
Sometimes stepping outside your back door can feel like you walked into a foreign land, one that doesn't feel like home. Adding art to your interior is a given, so why don't we add art to our exterior? Incorporating art to your landscape makes for an extension of your home, creating a connection and a natural flow from inside your house to outside. Adding an outdoor yard sculpture to match your indoor design gives you a sense of balance that is impossible to replicate using only flowers and plants.
While you might think placing a sculpture in your yard would seem out of place, it's actually quite the opposite. The textural and visual difference between natural elements and the materials used in the sculpture allows for the perfect contrast of nature and architecture. Just like plants, flowers and trees create a vision only nature can do, a sculpture provides balance by bringing different forms of colors, shapes and heights.
However, it's important to do it right. A sculpture is only as good as its placement in your yard. If you plop it dead center in the middle of your yard, it will look uncomfortable and random. If it can only be seen by standing in the neighbors yard, what's the point? Use a sculpture to accentuate the things you want to be seen, like the beautiful garden you've put hours of manual labor into. Nestling it into the foliage or amongst your flower beds is a great way to show off your garden without taking away from the beauty (and hard work) you've put into it.
While it might seem contradictory, a helpful tip is to place the sculpture farther away. This will create a focal point for the viewer, drawing eyes to your favorite part of your landscape. As the viewer gets closer to the sculpture, they will begin to notice the smaller details, and we all know how important those are. The goal is for the sculpture to compliment your yard, not for your yard to compliment the sculpture.
3. SEASONAL AND LOW MAINTENANCE
One of the most appealing aspects of a yard sculpture is the lack of maintenance required. We know there's already enough manual labor that needs to get done every day in order to keep your landscape looking clean, beautiful, and most importantly, alive. From gardening to watering to trimming, sweeping and raking… the list seems to never end.
If you want just one thing in your yard that doesn't need weeding, a yard sculpture is for you. With no major upkeep, your sculpture will remain the most steady element in your landscape. Although, we do recommend some light dusting and rinsing with soap and water every once in a while if you want to keep it absolutely pristine.
For us Minnesotans, the best part about an outdoor yard sculpture is that most of them are seasonal. We recommend a bronze sculpture as they will withstand rain, wind, and most importantly, the brutal winters consisting of extreme temperatures and heavy snowfalls. So, once the last leaf falls and your foliage is covered in snow, the sculpture will stand tall, making your landscape less depressing throughout those long winter months.